"The best life is for the one,
who turns towards light,
and sheds light to others." Zarathustra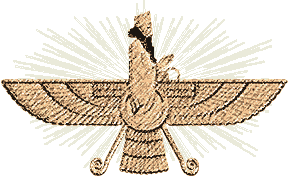 Good Thoughts
Good Words
​Good Deeds
"
Zarathustra, amongst all the religious founders, is the only one who is life-affirmative, who is not against life, whose religion is a religion of celebration, of gratefulness to existence. He is not against the pleasures of life, and he is not in favor of renouncing the world. On the contrary, he is in absolute support of rejoicing in the world, because except for this life and this world, all are hypothetical ideologies. God, heaven and hell, they are all projections of the human mind, not authentic experiences; they are not realities.
Zarathustra is unique. He is the only one who is not against life, who is for life; whose god is not somewhere else; whose god is nothing but another name for life itself. And to live totally, to live joyously and to live intensely, is all that religion is based on." Osho
#2. Get In There (Boro Vasat)
Life is short. Take it easy. Come in the middle and dance with us.
Don't take life so hard. Come in the middle and dance with us.
Life is about dancing, celebrating, and joyfulness.
.

#3. All we have is this very moment. So, enjoy it fully.
This moment can be gone so fast and become the past.
So, let's sing, dance, enjoy the moment that we have.
Meditation #5
Please, sit quietly and relax yourself to watch the light of the candles. Observe what comes and goes in your mind. Don't hold on any thoughts or feelings coming and going. Just Observe.

Zarathustra perceived Mazda through the inner eyes of mind and conscience. Ahura Mazda did not appear to him in the clouds, in a "burning bush", nor did he ascend to the sky to see God. He experienced Ultimate Wisdom through a mystical experience and contemplation in his inner being.
"O, Lord of Life and Wisdom, when I realized Thee in my mind as the the First and the Last of
Creation, then I found with my inner sight (conscience) that Thou art the Father of Vohuman, the
Creator of Truth and the Supreme Judge who justifies the actions of all the living beings." Yasna 31-8
********
"As I have seen Ahura Mazda with my inner sight, I shall strives to draw His attention towards
myself with songs of praise; and since I have realized through good thought, word and deed; and
through honesty and integrity as well, that Ahura Mazda is Lord of Life and Wisdom, and sole
Creator of the World, I shall, therefore, offer Him my sincere praise with full devotion." Yasna 45-8
/